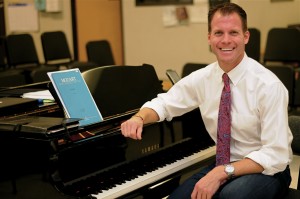 Kevin Tison is currently in his eighteenth year of teaching high school choral music fifteen amazing years of walking into Room 307 at Fountain Valley High School. A native to central Louisiana, Mr. Tison began his musical education in piano at age thirteen. He further earned his Bachelor of Music degree from Northwestern State University of Louisiana and a Master of Music degree from Texas Christian University, both in piano performance. He received additional concentrations in voice study, conducting, and orchestral arranging. During his time at TCU, he was honored by his selection as a performer in the renowned Van Cliburn International Piano Institute in Fort Worth, Texas (1995) - the only American to perform that year. After relocating to Southern California, Mr. Tison earned his K-12 music teaching credential from California State University in Long Beach (GO BEACH!)
Mr. Tison has worked extensively in the areas of conducting (orchestral, choral musical theater, and opera workshop) and performance (piano, organ, harpsichord, French horn, percussion, and voice). Featured often as a solo performer and conductor, he has planned and led music tours throughout Hong Kong, China, Macau, France, Romania, Germany, Austria, England, Croatia, Italy, Denmark, British Columbia, New Zealand and Australia.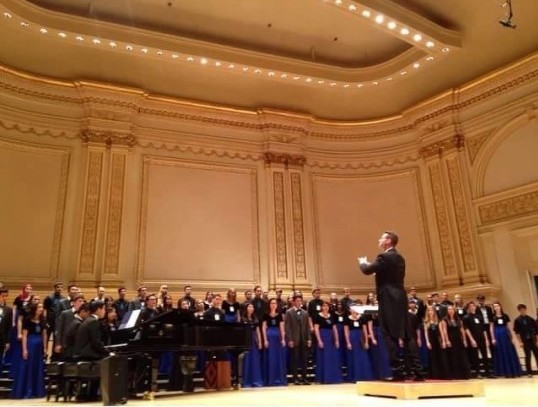 Before entering the field of high school teaching, Mr. Tison served as a music director of various churches in Louisiana, Texas and California. He has been nationally recognized and published as a composer and arranger, with his works being performed by symphony orchestras across America - most notably a premier by the Nashville Symphony in 1997.
Choirs under Mr. Tison's direction have performed and received the highest acclaim at regional, state and national levels, frequently at various Festivals of Gold across the country and the Golden State South Choral Competition in Southern California. He has also spent time on the other side of the baton, having performed as a member of the Pacific Chorale.
In 2010, in addition to being named Orange County Arts Educator of the Year and Fountain Valley High School Teacher of the Year, Mr. Tison and his work at Fountain Valley High School were featured in MENC's Teaching Music magazine (April 2010). One of the greatest honors in his professional life is the selection of his Troubadours chamber choir to perform at the American Choral Directors Association (ACDA) National Conference - Chicago in 2011 and Minneapolis in 2017! It is a rare and distinct honor for a high school choir to experience this opportunity once, much less twice! In addition to their national features, the Troubadours were also selected for performance at the statewide CASMEC Musical Education Conference in San Jose in February of 2016. This coming Spring (March 2020), they increase their impressive resume of conference performances by performing for the ACDA Western Division regional conference, in Assembly Hall of Temple Square in beautiful Salt Lake City, Utah. Our Vocal Music Program continues to earn great national recognition and acclaim for their excellence in choral music performance and creative programming!
Mr. Tison's passion in teaching is to impact students lives by not only giving them a deep appreciation, knowledge, and understanding of music, but also by equipping them with strong leadership and collaboration skills. The Vocal Music Program reaches far beyond Fountain Valley through their international tours and exchanges with young musicians from all over the world. Students leave this program having been a part of many once in a lifetime experiences, through domestic and international performance tours. The continued relationships and connections with our illustrious Vocal Music alumni are a treasured part of the Vocal Music Program. This is clearly seen in that THREE of our alumni are back on staff, serving the current students in the program paying it forward! So incredibly special, and unique!
Throughout Mr. Tison's 15 years, some of the most iconic and unique places the Vocal Music Program has performed include Bath Abbey (England), Notre Dame (France), Shanghai Conservatory of Music (China), Sydney Opera House (Australia), Carnegie Hall (USA), St Peter's & St Mark's Basilicas (Italy) and major symphony halls across America (San Francisco, Orange County, Chicago, Minneapolis).
Mr. Tison maintains membership in the American Choral Directors Association, Music Educators National Convention, and the Southern California Vocal Association. As well, being quite passionate about educational travel, he works as a part of the Perform International team as an Artistic Advisor and Production Assistant, helping to create and develop choral music festivals and other international performance opportunities.
Making his home in beautiful downtown Long Beach, Mr. Tison fills his non-music life with family and friends, flying private airplanes, hiking and CrossFit.